Succession / Exit Planning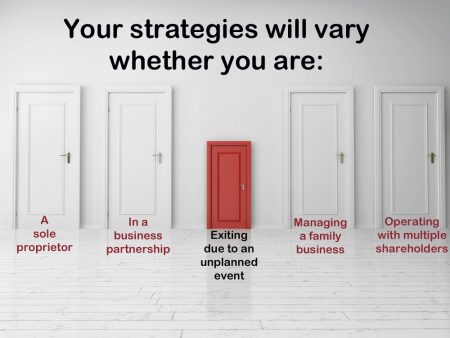 Consider the day you committed to owning a business. That moment that you knew it was time to run your own business – for reasons only you can describe.
What was the end goal? What motivated you to invest countless hours of time and resources to get the business off the ground and help it grow? Every owner's reasons to embark on this path are different.
But one thing remains the same. The journey of business ownership reaches a "destination point" – where the owner decides it's time to exit. As Alexander Graham Bell stated, "Above everything else, preparation is the key to success." A well-planned exit strategy preserves the business legacy and helps achieve the owner's original commitment to the business.
Having a solid succession plan will bring you peace of mind and personal satisfaction along with exciting and new opportunities for your business.
In our experience, we find that while nearly all business owners recognize the need for a succession plan, very few have actually implemented one. Cummings, Keegan & Co., P.L.L.P. is passionate about this topic and is determined to change that trend.
Important Considerations
Transferring your business will involve the consideration of a number of factors, including
Is there an adult child or key employee to whom the business can be transferred?
Does this person have the financial ability to buy the business?
Do they have knowledge and experience to successfully operate the business?
Are there other controlling shareholders to be considered?
When will the transfer occur?
What are the tax ramifications of transferring the business?
What will be the next steps for the exiting owner? Will you retire or travel? Will you start a new business of philanthropic foundation?
When is the appropriate time to transfer ownership?
Develop an Action Plan
Follow our 4-step action guide to create your action plan for the succession. The plan works for every type of business, but the details and strategy will be unique to your own business. What works well for a small family-owned business likely will not be sufficient for a corporation. The details of each phase will need to be considered along with how they will uniquely impact your business.
I believe every owner should run the business like it's for sale… even if it's not.
The earlier you plan for succession, the easier it is to practice letting go – and adapt the plan if needed.