October 23, 2023
Posted by:

Peter Maddalena

Category:

CKCO News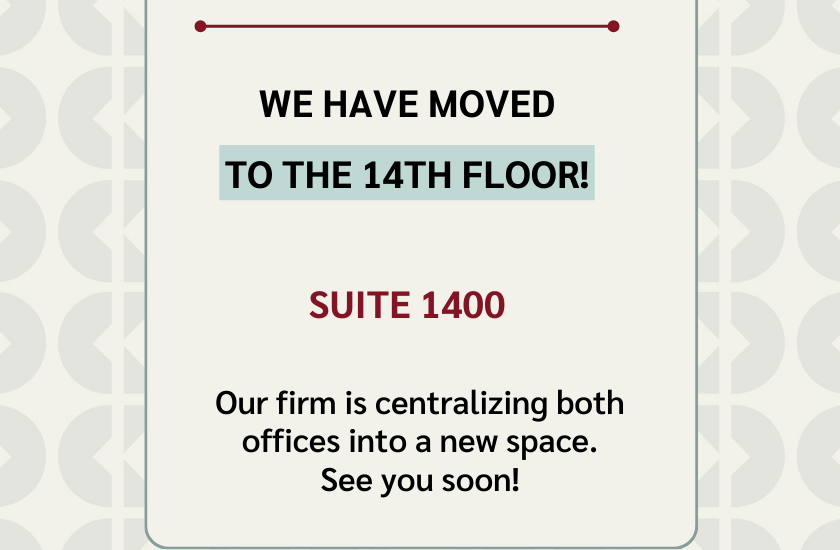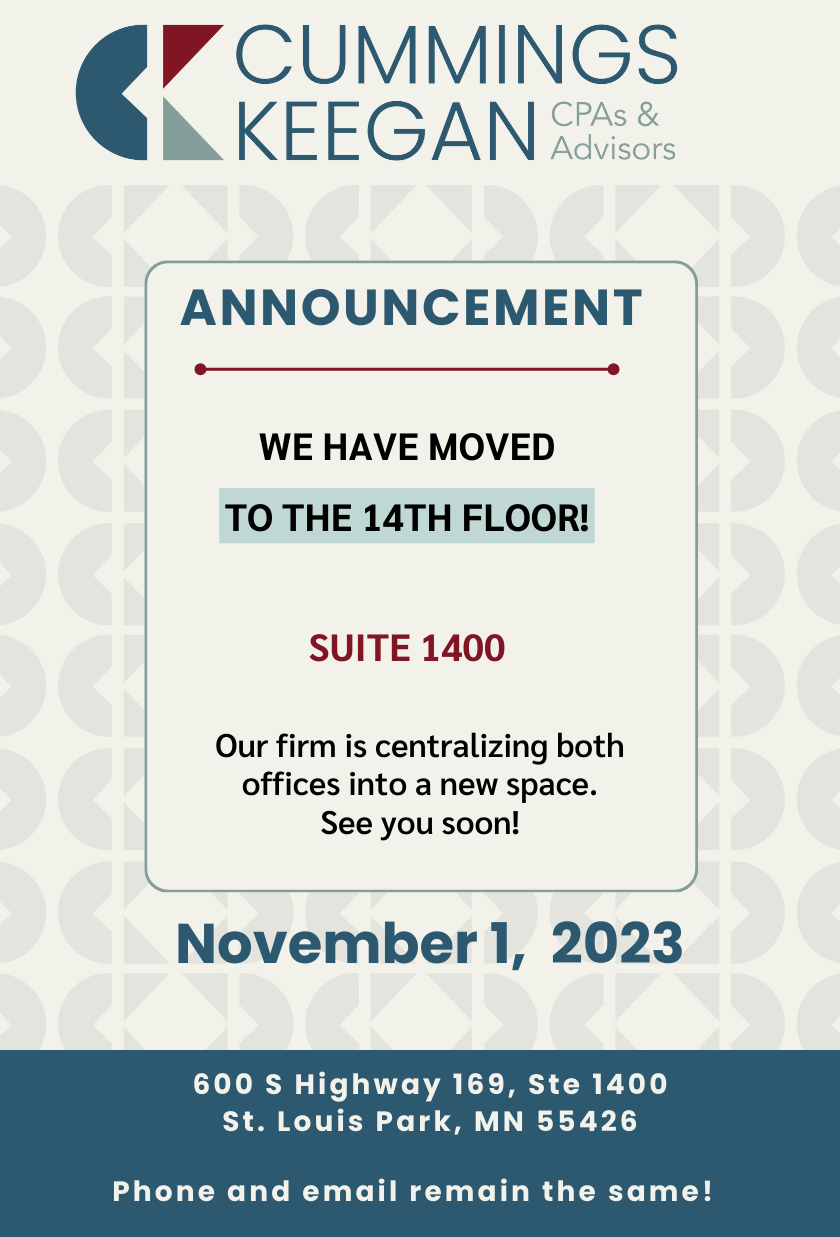 We truly enjoy advising and celebrating our clients as their businesses grow and evolve. It is equally exciting to share a significant milestone in our own firm's journey. Considering recent growth and expansion, Cummings, Keegan & Co., P.L.L.P. is centralizing its offices into a new, larger, and modern space. This move, which takes place late October 2023, is designed to enhance our operational efficiency, our ability to retain and attract talent, and elevate the level of service we provide to our valued clients.
November 1: Cummings, Keegan & Co., P.L.L.P. will operate from its current building located in St. Louis Park, Minnesota. We are moving from the 16th floor to the 14th floor. The Apple Valley office will not be utilized after October 31, 2023.
Our new address is 600 S Highway 169, Ste 1400, St. Louis Park, MN 55426. Our phone and email information remain the same; and you can always reach us through our website at cummingskeegan.com.
A New Space for Growth and Collaboration
This office move is not just about physical space; it's about designing a culture that fosters strategy, innovation, collaboration, and excellence. We believe that the right workspace can have a profound impact on productivity and employee satisfaction, and we are looking forward to the many benefits our new location will provide. The space will bring together our diverse talent pool while managing the hybrid work arrangements and flexible workspace our employees appreciate.
Introducing Our New Logo

Complementing our office move is the introduction of a new logo that represents our firm's forward-thinking approach and commitment to client success. The design represents the next chapter in our firm's journey while preserving the trust and expertise we've built with you over the past 67 years. It infuses new energy into a growing team, strengthening the unwavering commitment of helping our clients achieve success as they define it.
The logo's primary colors emphasize the confidence, resourcefulness, and expertise our clients expect from our firm. The logo mark is easily identifiable consisting of the negative spaces made from the letters "CK". The Cummings Keegan logo features a simplified version of the name most used, even though the firm's official name and structure remain the same.
Clients and employees will notice the new logo incorporated into the firm's materials over the next few weeks.
Continued Engagement with Local Communities
Our involvement in local communities will not be affected by this move. Employees who live in Apple Valley, Lakeville, and surrounding communities will continue to maintain a presence in organizations and community events. They will be available to meet clients at the client's location or in our new office in Suite 1400.
Our Commitment to You
As we embark on this journey, we want to take a moment to thank all our clients, partners, and team for their continued support. This new phase in our firm's journey is a testament to our shared commitment to growth and innovation. We are excited to share our new office space and logo with you. Come see us any time after November 1, 2023!