NEW DEADLINE – All 1099-MISC Forms must be filed to the IRS by January 31, 2017.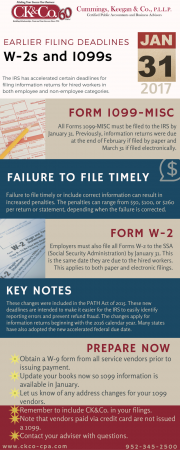 The IRS has accelerated certain deadlines for filing information returns for hired workers in both employee and non-employee categories. Prepare now to file timely and avoid increased penalties.
Form 1099-Misc
Due to the IRS by January 31.
Previously, these information returns were due at the end of February if filed by paper and March 31 if filed electronically.
Form W-2
Employers must also file all Forms W-2 to the SSA (Social Security Administration) by January 31. This is the same date they are due to the hired workers. This applies to both paper and electronic filings.

Prepare Now
Failure to file timely or to include correct information can result in increased penalties. (ranging from $50-$260 per return or statement, depending when the failure is corrected):
---
–Update your books now so 1099 information is available in January.
Forward this notice to your associate responsible for providing your 1099 information.
–Let us know of any address changes for your 1099 vendors.
–Remember to include CK&Co. in your filings.
–Obtain a W-9 form from all service vendors prior to issuing payment.
–January 23 – date CK&Co. should receive your appropriate information if we prepare your 1099s. The information should be submitted to us before – and not along with – your tax return information.
Name, address, and federal identification number (or social security number) of the payee
The amount you paid to them in 2016.
If you do not have this information, please request a W-9 form from these vendors before making future payments.
–A 1099-MISC is required to be filed
for all check/cash payments (for rent or services performed) of $600 or more to any individual or unincorporated business.
for attorney fees of $600 or more, even if the attorney is a corporation.
---

Key Notes
These changes were included in the PATH Act of 2015. These new deadlines are intended to make it easier for the IRS to easily identify reporting errors and prevent refund fraud. The changes apply for information returns beginning with the 2016 calendar year. Many states have also adopted the new accelerated federal due date.